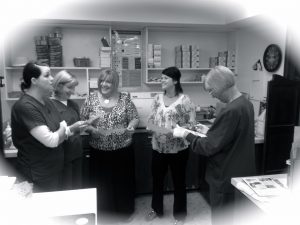 A Morning Huddle is a Great Way to Start your Day!
The past few days I have been working with some dental practices.  To help these teams more effectively, Bryant Truitt and I have been "boots on the ground" – in their business observing, interviewing staff, analyzing data, and discussing best practices for managing a dental business.
When I discussed this process with another client he said, "Mike, we need your help and expertise.  We appreciate your ability to help us eliminate some of the stress we feel in running a business."   Hearing comments like this fuels my passion to …help doctors mind their own business.
The business of healthcare is about – caring for the patient.  It's my commitment to keep using my talents, gifts, information, abilities, and expertise to work with those who care – even if it's just sharing a contribution to the team huddle.