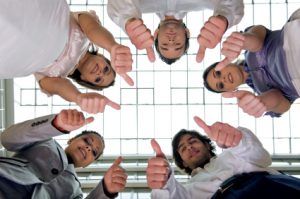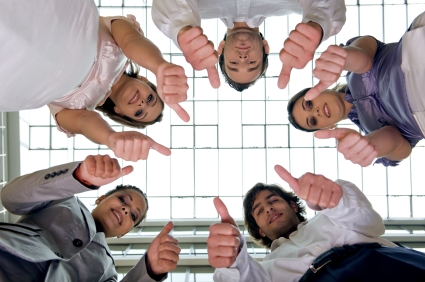 Whether a football player is on offense or defense, they go to the huddle at the start of each play to encourage each other and call a play that will move the team towards their goal.  Doctors can use a similar approach to reaching practice goals by utilizing a "team huddle", a morning meeting, to start the day.  Here are some key practice management aspects to consider with your staff.
Review Goals – summarize your actual production, adjusted production, collections, number of patients seen, number of new patients, number of procedures performed, and expenses for the prior day, week or current month and compare these figures against your goals to alert your team of any variances.  Don't focus on only the negatives if you find yourself behind on your goals.  Remember, this is a time for positive team encouragement and to work the office "playbook", which should move your team towards the practice goals.  Save the longer strategy discussions and modifying the playbook for a regular staff meeting.
Review Yesterday – analyze the prior day's activities so that you follow-up on items that may have been missed or for a chance to market your services in the future.  How was the new patient referred to your practice and why did they make an appointment with you?  Was a treatment plan established and was it entered into your practice management system?  Did you receive an updated e-mail address and cell phone number?   Use this summary to follow-up with your new patients the next day with a quick note or phone call thanking them for visiting your office.  Providing them with a patient opinion survey will also help your practice listen to and meet their needs; moving your practice towards becoming more than just a friend on Face book.
Review Today – look at today's appointments scheduled.  Is the day full? If not, use your staff time efficiently by looking to today's listing of patients that are inactive or overdue for care.  Work towards filling the day or a future schedule.  If someone should call today with an emergency, where should the staff put the patient? Look at today's treatment plans and coordinate care with all providers of care to do what is best for the patient and efficiently utilize insurance benefits. Do any of today's patients have an outstanding balance with you?  If so, be sure everyone on the team knows their role and assignments for following up.
Dental clients using our Morning Meeting Report can save an average of 12 minutes per day in gathering information for the meeting – that's approximately a week's worth of work over a year's time.  Using a standardized report or a display board will keep your meetings efficient and make a positive impact on your work day. Give me a call to find out how you can begin implementing our standardized reporting process, or start one of your own.  Either way, get into the practice of holding a daily huddle with your staff and move closer to your goals. One, Two, Three – Let's Go!