About 15 years ago my oldest children were asking for social media accounts.  Like many parents, it was then that  I decided I had to get an account of my own to follow what they were doing.  As I watched them and their friends grow up with these resources, I realized that I would need to stay on top of this type of communication if I wanted to work with and be helpful to my future clients.  It seems so much simpler to make a phone call and have a conversation with someone instead of fat fingering little buttons to send a message, but I'm certain that the Millennial generation would have a different perspective.  Sending a text message usually solicits a quicker response with them – it does with my kids; especially when the text is "Do you need money?".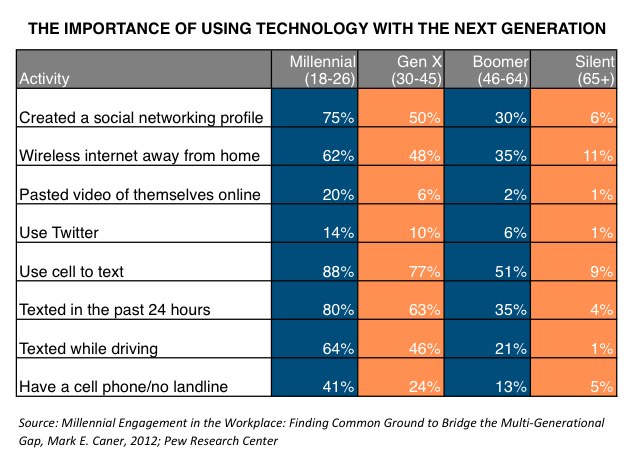 I recently came across this table of information and found it to be very interesting.  It speaks to the way in which generations are embracing various segments of social media.  As you move from the right column to the left, you can see generations going from dabbling to exploration to full immersion into the various social activities. Businesses are also becoming more "social", but I suspect that most healthcare practices would still be classified as being in the dabbling category.  Doctors that get on board and learn how to best use social media to communicate with their patients will stand-out above their competition.
Dr. David Geier, an Orthopedic Surgeon and Sport Medicine Specialist from North Carolina, is an example of a physician that is standing above the crowd by engaging an audience and his patient base in Podcasts that he produces about various sports and resulting injuries.  I had the pleasure of meeting and visiting with David at a recent conference that we were both attending.  It is obvious that he has a passion for his profession and is using his pioneering spirit to take his practice and business social.
Not every doctor will invest the amount of time that takes to do what Dr. Geier does, but that doesn't mean that your practice isn't or can't start to be more social.  Start with the basics – simply begin gathering patient e-mail addresses and cell phone numbers.  I'm amazed at how often this aspect of business management is overlooked.  The practice management systems that are employed almost always have the fields available for this data, but the person at the front desk is not charged with the responsibility of obtaining the information.  If you aren't doing it now, I would suggest that you diligently work at asking for this information from your patient base.  Assign a champion within your office with this task and make a game out of it – oh, and do keep score daily.
Software, such as Demand Force or SikkaSoft's Patient Home Page are just a couple of examples of tools that I see being used within healthcare practices to communicate with patients via e-mail and text messaging services.  Having a secure patient portal that allows your patients to check their schedule, pay the balance of  their account, or communicate with you in some way are great resources for your patients and will make your business more assessable.   A friend of my daughter's once said to me, "If I can't deal with the company on-line, see what they offer, communicate with them, and pay my bill with them – on the computer, I will find a different company with whom to work."  While I would hope that customer service and the quality of the service would enter into the purchasing decisions of a younger generation, I'm becoming more aware that making your business social is something they value.
My friend, Jim Munchbach, who is the author and producer of TheSocialBusinessPodcast.com says, "Big Business. Small Business. Show Business. Micro Business. It's all Social Business. But don't worry if you aren't totally there – start where you are today and then simply take the next step."
How are you currently using Social Media in your Practice?  Or, in what ways do you plan on using it in the future? (To Reply, Click Here)
Mike DeVries is a CERTIFIED FINANCIAL PLANNER ™ and a Certified Healthcare Business Consultant focusing on helping healthcare professionals. If you would like to learn more about becoming a client of Mike's, contact him at www.vmde.com