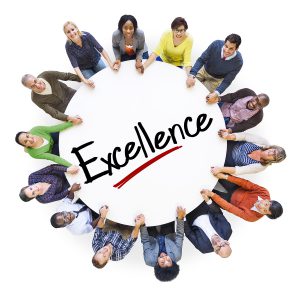 In his book, Hardwiring Excellence, Quint Studer indicated that 27% of employees leave their employer within the first 90 days because they give up on their healthcare employer. Turn over of personnel is expensive and should be avoided by maintaining a good recruiting and training process. Keeping your staff working as a team and cultivating loyalty is also important for maintaining a smooth running office. As a leader of your business, here are some ways to work with your team members to create excellence in your office.
Recognition – be sure to let your staff know you appreciate them. Address them by name and thank them.
Equip your team – provide them with the tools and equipment they need to do their job. Ask them, what could you use to do your job better? Or even, I want to make this a great place to work – what can I do for you?
Praise – Acknowledge employees' achievements in front of their peers. I have had clients provide awards and dinners for special achievements. You can certainly establish a non-taxable employee awards program, but you don't have to – a simple word of praise can go a long way.
Purpose – Communicate your vision for your practice and make sure employees see how their particular tasks affect the big picture.
Meaningful work –  Eliminate "busy work" and maximize your employees' effectiveness. Sometimes this means that we need to look beyond the way things have always been done and do something that is hard for most everyone – change.
Decision autonomy –  Provide the training, skills and authority for employees to fix problems on their own.
Participation –  Encourage staff opinions at regular staff meetings. You will be surprised by the creativity and resourcefulness of your employees when you ask them what they like and don't like about the way the office is run and what suggestions they have for improving it.
Flexibility –  Consider creative scheduling and job sharing. For example, have a staff member come in at noon and stay later into the evening so that another member might be able to leave the office on time.
Diverse experience – Allow for and provide training so your staff members know what is expected of them and realize that their professional growth is important to you. Encourage cross training so they learn skills beyond their usual job description.
Measure progress – establish common goals or benchmarks that can be measured each month, quarter, or annually supports the alignment of behavior and recognized behavior is repeated. But don't get too stuck on the numbers; rather than catching people meeting the criteria for recognition, work towards mobilizing the entire organization to recognize individuals that perform acts of excellence.
Team members that work in healthcare desire to feel a part of something worthwhile. As the leader of your team and business, you have the ability to foster and encourage this desire by growing as a leader and creating employee engagement, which will contribute to memorable patient kindness, profitability, sustainability and patients telling others about your office – an office of excellence.