Category Archives:
Reflections
Success is not final, failure is not fatal; it is the courage to continue that counts – Winston Churchill
I'm attending the 2015 NSCHBC Annual Conference this week. This year Dr. Zubin Damania will be a featured keynote speaker – listen to his TedMed Talk above.
Dr. Damania is an insightful healthcare leader and entertaining.  He struck my funny bone – Michael L. DeVries, CFP®, CHBC, EA
Here are other presentations and discussion topics that will be presented at the conference.
6 Crucial Behaviors for Patient-Facing Employees
Can Independent Practices Survive the Storm
Building Sustainable Customized Reports in Your Practices
What it will take for Diagnostic Imaging Providers to survive and thrive in the Healthcare Integration & Consolidation Feeding Frenzy
Healthcare: Remixed with Zubin Damania, M.D., ZDoggMD LLC
Medical Track: Medical Employed Physician Contracts and Compensation: Current Trends, Stacking Arrangements, and Determination of FMV"
Dental Track: Ensuring Practice Success with the Marketing Trifecta
---
Mike DeVries is a CERTIFIED FINANCIAL PLANNER ™, Enrolled Agent,  and a Certified Healthcare Business Consultant focusing on helping healthcare professionals. If you would like to learn more about becoming a client, contact Mike at www.vmde.com.
| | |
| --- | --- |
| Event: | 2015 National Society of Certified Healthcare Business Consultants Conference |
Mouthing Off on the Economy
Why do you think that patients are not scheduling their dental appointments?
A – They are Fretting over their Finances
B – They are Too Busy Working and Earning Money to Care
C – Their Employer Dropped the Company Dental Insurance Plan
D – Other (Please give us your thoughts)
Mike DeVries is a CERTIFIED FINANCIAL PLANNER ™, Enrolled Agent,  and a Certified Healthcare Business Consultant focusing on helping healthcare professionals. If you would like to learn more about becoming a client, contact Mike at www.vmde.com.
The difference between a realist and dreamer is – A realist sees the chance for failure and the dreamer sees the chance for success.
Dale Brown
Sweet Dreams!
When dealing with people, remember you are not dealing with creatures of logic, but creatures of emotion. – Dale Carnegie
"What is your Relational Net Worth? (God + Family + Friends) – Obligations = RNW. Spend less doing…Buy more being…Equation worth Living!"
I was driving east on I-70 in Colorado, just west of Denver, when a friend on the phone suggested that I stop and see Mt. Evans.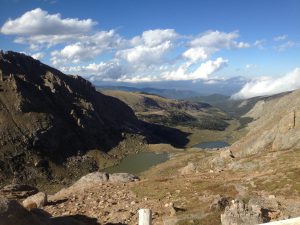 A 15 mile road, which is the highest paved road in North America, leads you to a heavenly sight. I really didn't think much about the journey to the top because I was enjoying awesome views –  green trees, streaming water jetting down from the mountain, blue skies. I could see cars moving along near the top of the mountain, but even then I wasn't thinking about what was to come.  It was somewhere around the timberline that I turned a corner and faced a dirty four letter word – FEAR!  Yes, I'm afraid of heights.  Glancing to my left I saw the edge of the road blend in with the sky and my whole being felt ill; my arms tensed and I could feel a tingling sensation running down the back of my neck.  Thoughts of turning around entered my mind, but there was no way I could make a hundred and eighty degree turn and just the thought of trying gave me the heebie-jeebies. I crept forward, like a tortoise, until I arrived at the first turn-off.  As I got out of the car, I noted a chiseled  rock sign near a path that read – Mind Your Step. Wow, as if I needed a reminder!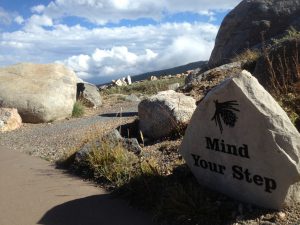 It was at this point on my self-guided tour that I knew I had to face my fears to get to the top.  So, I mustered up enough nerve to…hitch-hike!  Sometimes a fear that would keep you from reaching your goals can be resolved with a little help from a friend.  J.T. and Rebecca were more than happy to watch me squirm in the back seat of their truck. Well, J.T. was. Rebecca couldn't see me because she had her eyes closed and kept reciting the Lord's Prayer! I knew I was in good hands.
Well, I made it to the top! And, I'm proud to say, back down again.  I'll always remember this venture as being the time that I was…um, resourceful. Brave? Not so much…well, maybe just a little.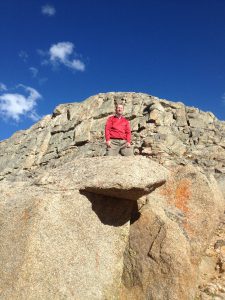 How about you? Do you have any fears that keep you from reaching your goals?  
Be resourceful to Mind Your Own Business at Home, Work or Play.
Making your Smile Right!
"Smile at each other. Smile at your wife, smile at your husband, smile at your children, smile at each other- it doesn't matter who it is- and that will help to grow up in greater love for each other."
― Mother Teresa
In an effort to "mind my own business", I signed up for the Launch Conference.  Going to any conference takes work and, let's face it, it is an investment.  The investment often includes a monetary cost as well as a cost of time – time away from my family and the clients with whom I work.  So, when I participate in a conference I look for a return on my investment.  This could consist of something that will help me be better at what I do, who I am, or something that I can share with you that will enhance your life.  The Launch Conference, for me, has been incredibly beneficial.  The speakers have been great, and what I find equally as great are the people I get to meet who are attending this conference.
This afternoon, during a work session on discovering personal life assets, I had the pleasure of meeting and talking with Derrick Tennant, who I learned is a comedian with a powerful life story of his own.  He shared that one of his life assets is his sister , Julie.  Derrick introduced Julie to me by way of this video that I suggest you watch.  I believe Julie can be a life asset for all of us.
Enjoy and share a smile with Julie – smiling is good for you and it's contagious!  Hey, Julie, I Love My Life Too!
"Going for a run? Try running with God http://bible.com/n/xsFN"