Third-party payers are paying less and patients are paying a higher percentage of their medical costs.  Employers and patients are opting for higher deductibles to keep their out-of-pocket premium costs at a reasonable level.  To work effectively with your patients it is becoming more important that you have a written financial policy and use it.   The following are some thoughts regarding the importance of maintaining a solid financial policy.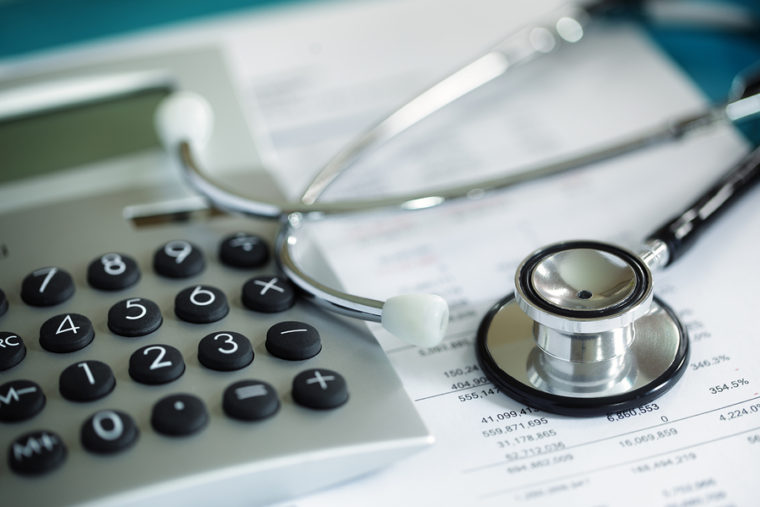 Why do you need a financial policy? Collecting money directly from your patients can be the hardest money to collect.  Emotionally, it is difficult for doctors and their staff to deal with patients and their financial matters.  A financial policy provides a set of procedures that will help you with your collections.  This written document provides you and your staff with the methods and best procedures needed  to service your patients when collecting from them directly.  Being most effective in this process is key – it will keep you in the business of caring for your patients.
What are some best practices for communicating our financial policy to patients? First and foremost, the policy should be in writing. Use simple, words.  Use Microsoft Word or similar program to assess the reading level of your document.  For best practices, your document should have a reading level no higher than the seventh grade.
All of your staff should be educated and have a complete understanding of the policies.  Everyone in the office should know how to collect money from a patient.  Having clear, consistent, and firm policies are crucial to having an effective policy that patients will understand and respect.
Best practices include communicating your financial policies and your expectations to the patients when they are scheduling an appointment.  Include a copy of the policy in their "new patient" packet that you mail to them or direct your patients to a copy on your website.  Be sure to have them sign a copy when they visit your office.  Retain the signed document at your office and provide a copy of the original to the patient for their records.
In addition to providing this to new patients, it is a good idea to remind returning patients of your policy.  If you find that it is necessary to update or change the policy, be sure to notify your patients of the policy change.   This can be done by way of a letter, notice in the office, or a notice on your website.  Use what will work best for your practice ensuring that the patient is well-informed.
What should the financial policy contain? Be sure to clearly indicate all the financial aspects associated with a patient's care in your office.  For example, do you charge a no-show fee?  Are there penalties assigned if the patient doesn't pay his co-pay at the time of service?Let the patient know, your office strives to provide the best possible care and will help the patient, using your best efforts, to obtain their maximum insurance benefit.  Remind  the patient the financial responsibility for payment is, ultimately, their responsibility.  Explain co-payments, high deductible amounts, and non-covered services must be paid at the time of service.  I recommend you have a financial arrangement agreement that will address these amounts and how they will be collected.  Also, it is important this financial arrangement is reviewed with the patient before they are scheduled for any procedure.

Additionally, here are some other items your policy should include:
The patient agrees to inform you of any address changes or updates to their insurance benefits (there should be no surprise if you ask them for a copy of their insurance card or driver's license)
The forms of payments your practice accepts (cash, debit or credit cards, checks, Care Credit)
The fees charged for checks that are returned
How delinquent accounts are handled
Hardship application and documentation
To whom the patient should direct their billing questions
How patients without insurance be handled (this is especially important for dental practices)
Charges for making copies of medical/dental charts
Office Procedures for your staff – In addition to having a financial policy and a financial arrangement agreement for your patients, I would also suggest that you have a written protocol for managing the accounts receivable.  In this document you should describe the procedures and systems that you use.  Everyone in the office should be trained on the procedures.  When someone joins your team, this written document should serve as a training system for your new hire.  This document would also become the source by which you hold your employees accountable to keeping the accounts receivable clean. This document may include items such as:

How a patient credit balance is handled
When a patient balance is sent to collection, what code is used to adjust the balance off the patients' ledger
What notes and alerts are put on the patients accounts when the account is in collection or when a "hardship" situation is granted
The process for granting a hardship application
How the aged accounts receivable balances are worked and who is responsible
How the aged insurance balances are worked and reviewed and who is responsible
How often billing statements are sent out
What the criteria is for not sending a statement
What dunning notices are used and when they should be applied
The process for granting and approving patient payment adjustments
How the practice management will be used to note communications and agreements with patients
How to process credit cards
Mike DeVries is a CERTIFIED FINANCIAL PLANNER ™, Enrolled Agent,  and a Certified Healthcare Business Consultant focusing on helping healthcare professionals. If you would like to learn more about becoming a client, contact Mike at www.vmde.com.