New Assessment to be Implemented with Clients – Practice S.C.O.R.E. Card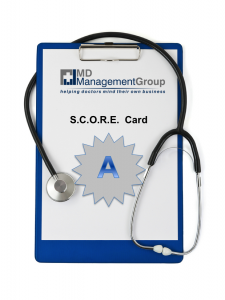 We are in the process of establishing a method to "Grade" healthcare practices based upon various aspects of their business. The objective of doing this is to assist healthcare practices improve in the management of their business and ultimately help them increase their efficiencies and profitability. If a healthcare practice is to thrive in today's business environment, the management of the practice is crucial. To manage anything properly, you must measure – where you are today, and improvements being made towards your goal. It's our desire that our clients continue to improve and move to the "Next Level" in their business goals. It is for these reasons that we are establishing a S.C.O.R.E. Card that will be used for the purpose of grading a healthcare practice.
S.C.O.R.E. stands for the areas of the business to assess
Staffing – because the people you employ are your greatest assets
Compliance – because penalties pose great risks to your profitability
Operations – because systems are a key ingredient to any successful business
Revenue – because without it you will not be in business
Expenses – because without controls your profits will be compromised
Why use a grade?
It provides a way to document the current condition of the area being assessed
It provides feedback of an assessed area of business and it's a measurement that everyone understands.
It provides for a goal – everyone wants an "A"
What should I understand about the use of the S.C.O.R.E. Card?
This is a process that we are developing and we appreciate your feedback
The assessment provided for a particular area of the business should not be considered a substitute for a more thorough analysis
The grade provided is not a personal evaluation of your staff. It is merely our evaluation of the particular area of your business and provides you with a measurement at a specific point in time.
We know that a grading process is subjective and not perfect; however, we believe that this process will become a great way for you to position for a better future in the business of healthcare.
In the coming months we will be providing you with additional information. Next month we plan on start the grading process with clients.